Kabel USB-C do lightning Baseus CATLSK-06
Teraz błyskawicznie naładujesz swojego iPhone'a i prześlesz pliki z prędkością do 480 Mbps. Kabel USB-C do lightning marki Baseus obsługuje szybkie ładowanie PD 20 W, a dzięki wbudowanemu wyświetlaczowi możesz na bieżąco sprawdzać jego moc. Produkt jest przy tym niezwykle wytrzymały, a jego zaawansowany chip zapewnia bezpieczeństwo użytkowania i chroni Twoje urządzenia przed uszkodzeniem.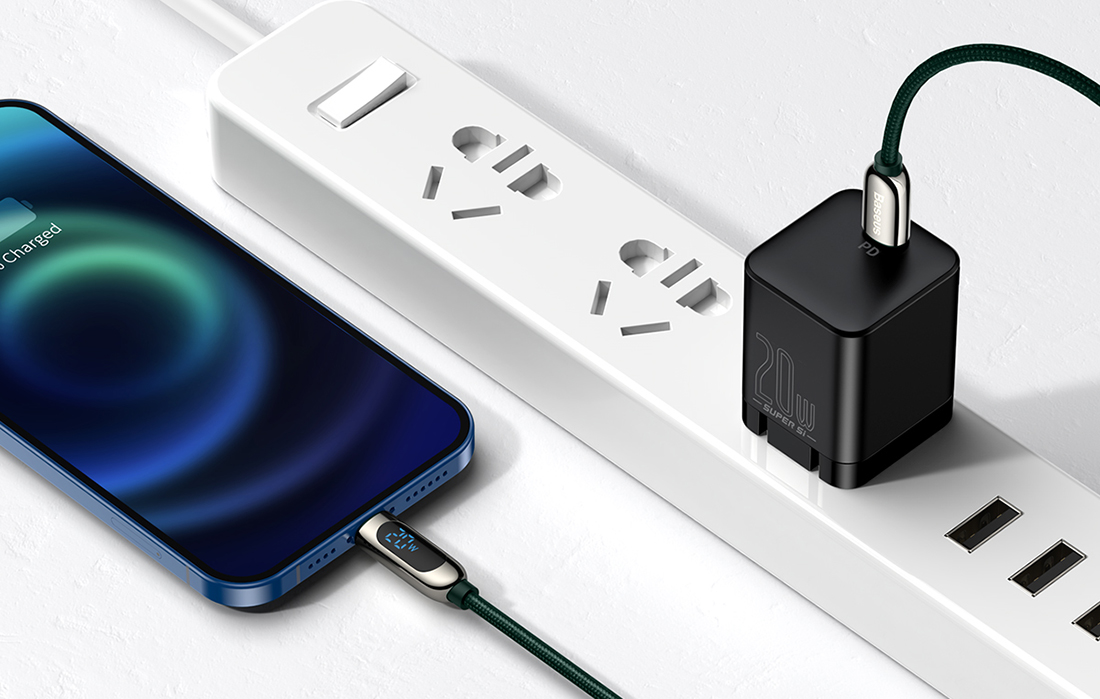 Odkryj zalety szybkiego ładowania
Masz dość czekania w nieskończoność, aż Twój telefon zostanie naładowany? Z Baseus to już przeszłość! Produkt obsługuje szybkie ładowanie PD 20 W, co oznacza, że może na przykład przywrócić 60% energii smartfona w zaledwie 30 minut. Produkt jest też wstecznie kompatybilny z PD 18 W i pasuje do większości modeli telefonów i tabletów Apple.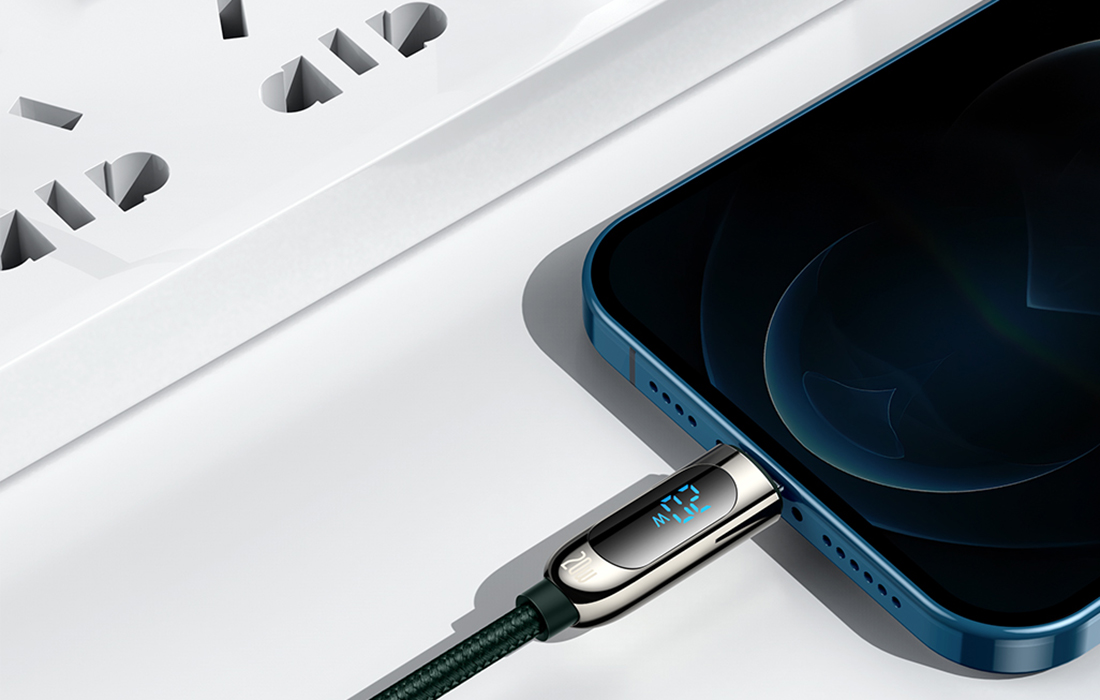 Wystarczy rzut oka na wbudowany wyświetlacz
Teraz wystarczy rzut oka, aby sprawdzić aktualną prędkość ładowania. Kabel został wyposażony w niewielki, ale czytelny ekran, na którym w czasie rzeczywistym wyświetlana jest jego moc. Możesz więc na bieżąco kontrolować jego pracę i cieszyć się stałym dostępem do przydatnych, a zarazem wiarygodnych informacji.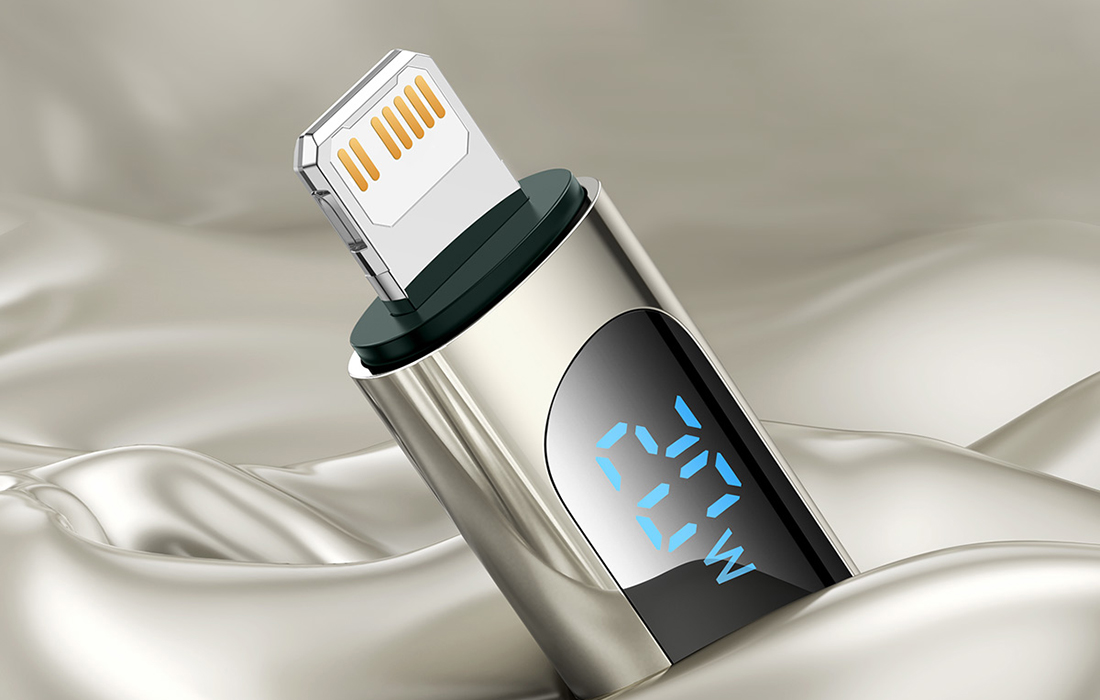 Inteligentne rozwiązania
Nie obawiaj się o bezpieczeństwo swoich urządzeń. Zaawansowany, inteligentny chip kabla zapewnia stabilne i pozbawione zagrożeń ładowanie. Automatycznie rozpoznaje aktualną moc i pozwala wyświetlać jej wartość na wbudowanym ekranie. Jednocześnie pomaga chronić Twojego iPhone'a przed uszkodzeniem.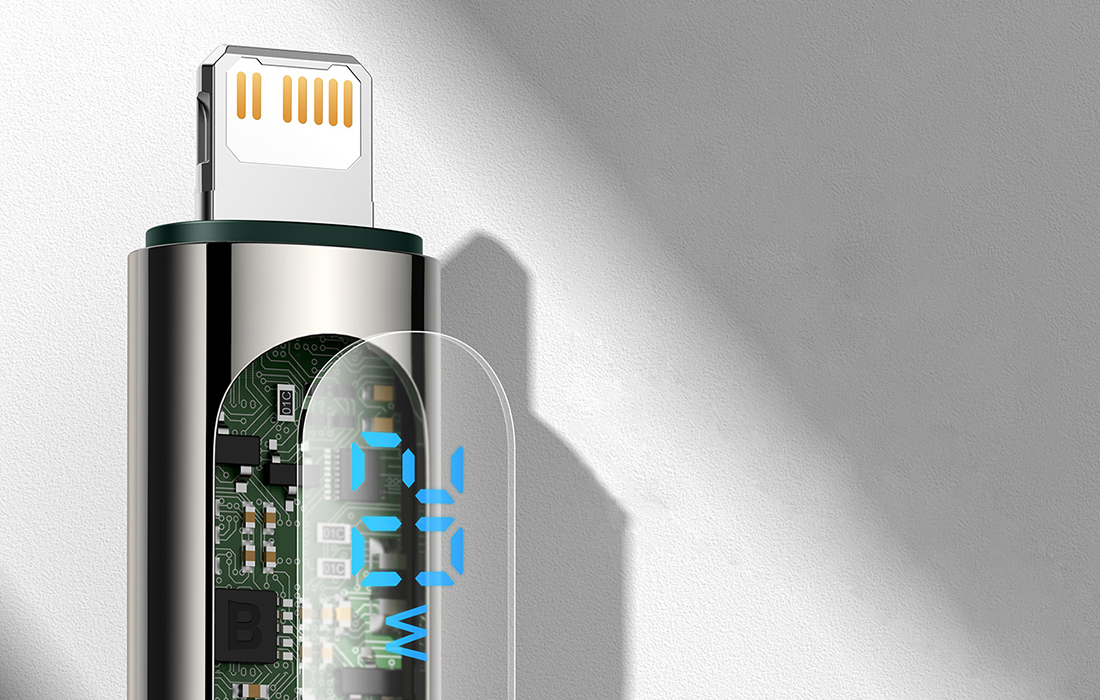 Błyskawicznie przesyłaj pliki
Szybkie ładowanie to nie wszystko! Kabel Baseus umożliwia też równie szybką transmisję danych. Jej prędkość sięga nawet 480 Mbps. Teraz w mgnieniu oka przeniesiesz wszystkie potrzebne pliki między urządzeniami! Zdjęcia, filmy czy dokumenty - już nie musisz czekać w nieskończoność, aż znajdą się w docelowym miejscu.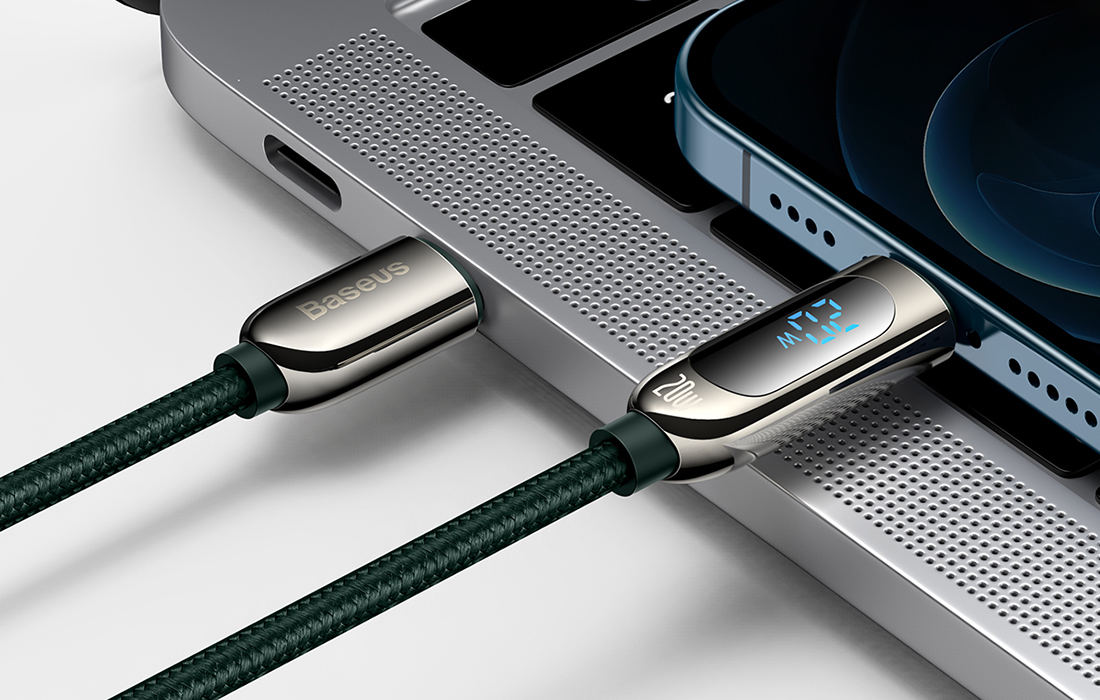 Udoskonalona konstrukcja
Co sprawia, że kabel umożliwia tak szybkie i stabilne ładowanie? Dopracowana, doskonale przemyślana konstrukcja! 5 pasm cynowanej miedzi zapewnia lepsze przewodnictwo i mniejszy opór. Co więcej, złącze zostało zaprojektowane w taki sposób, aby idealnie pasowało do portu iPhone'a - nawet jeśli używasz dodatkowego etui. Gwarantuje przy tym jeszcze stabilniejsze, niezawodne ładowanie.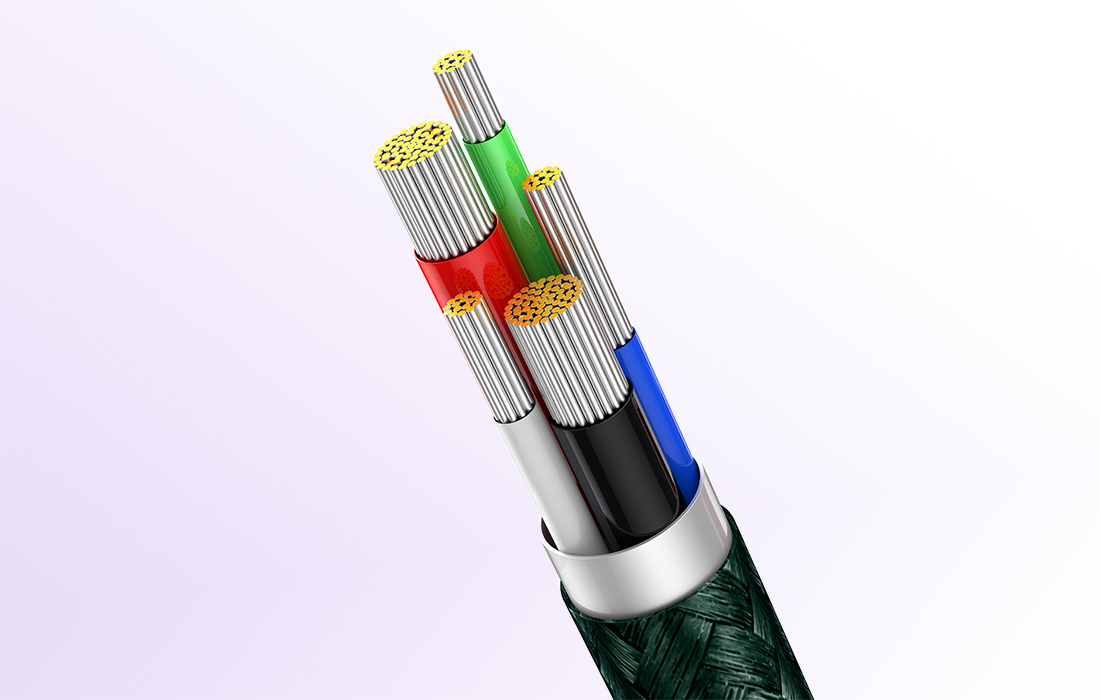 Zaskoczy Cię trwałością
Szukasz kabla, który będzie doskonale Ci służyć przez długi czas? Właśnie udało Ci się go znaleźć! Najbardziej wrażliwe elementy produktu zostały optymalnie zabezpieczone przed uszkodzeniem. Wykonane ze stopu cynku złącza są odporne na utlenianie, zużycie i przegrzanie. Nylonowy oplot chroni kabel przed wyginaniem, rozciąganiem, a nawet złamaniem zapewniając mu niezwykłą wytrzymałość i elastyczność.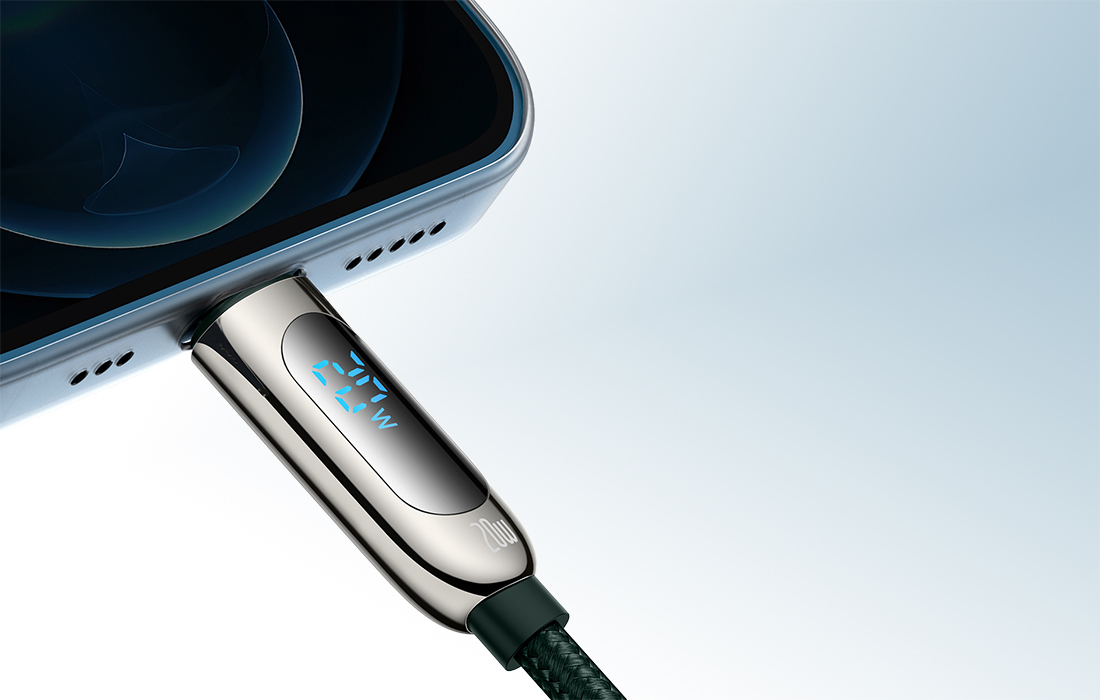 Specyfikacja
| | |
| --- | --- |
| Producent | Baseus |
| Nazwa | Display Fast Charging Data Cable |
| Model | CATLSK-06 |
| Materiał | Stop cynku + nylonowy oplot |
| Kolor | Zielony |
| Moc | Do 20 W (9 V / 2.22 A) |
| Prędkość transmisji | 480 Mbps |
| Interfejs wejścia | USB-C |
| Interfejs wyjścia | Lightning |
| Długość | 1 m |