Adapter audio UGREEN CM477, USB do Mini Jack 3.5mm AUX (szary)
Adapter audio tego modelu może zachwycić swoją wygodą. Noże tak się stać dzięki, temu, że możesz zapomnieć o sterownikach, ponieważ do korzystania z tego urządzenia nie będą one potrzebne. W produkt wbudowany został układ redukcji szumów. Istnieje możliwość jednoczesnego korzystania z innych portów, ponieważ zaprojektowano go w taki sposób, aby nie kolidował z nimi. Dodatkowo jest poręczny i łatwo go zmieścić do kieszeni. Jest kompatybilny z Systemem Windows 10 / 8.1 / 8 / 7 / Vista / XP, Mac OS od wersji 8.6 do wersji nowszych, a także PS 4, słuchawkami, głośnikami i mikrofonami. Może również stanowić alternatywę do zepsutej kart dźwiękowej.

Wygoda
Na wygodę adaptera składa się wiele czynników. Jednym z nich jest fakt, że do korzystania z niego nie są wymagane sterowniki. Kolejnym czynnikiem jest wbudowany układ redukcji szumów, który zapewnia jakość dźwięku. Ponadto nie wpływa on na korzystanie z sąsiednich portów. Konfiguracja z urządzeniami to tylko kilka kroków. Co więcej, możesz z łatwością zabrać go ze sobą, ponieważ jest lekki a jego długość to tylko 212 mm.


Kompatybilność
Wymagania systemowe do użycia adaptera audio to Windows 10 / 8.1 / 8 / 7 / Vista / XP, Mac OS od wersji 8.6 do wersji nowszych. Można również połączyć adapter z PS4, przy czym należy pamiętać o odpowiednich parametrach. Dodatkowo może obsługiwać słuchawki, głośniki i mikrofony.

Alternatywa dla karty dźwiękowej
Produkt może rozwiązać problem wadliwej karty dźwiękowej, portu audio 3,5 mm systemu laptopa bądź komputera stacjonarnego i odzyskać funkcję audio. Urządzenie może dodać 3,5 mm port TRRS, który jest zintegrowanym wejściem i wyjściem audio komputera poprzez dostępny interfejs USB. Pozwoli to zaoszczędzić pieniądze, które musiałbyś wydać na wymianie karty dźwiękowej.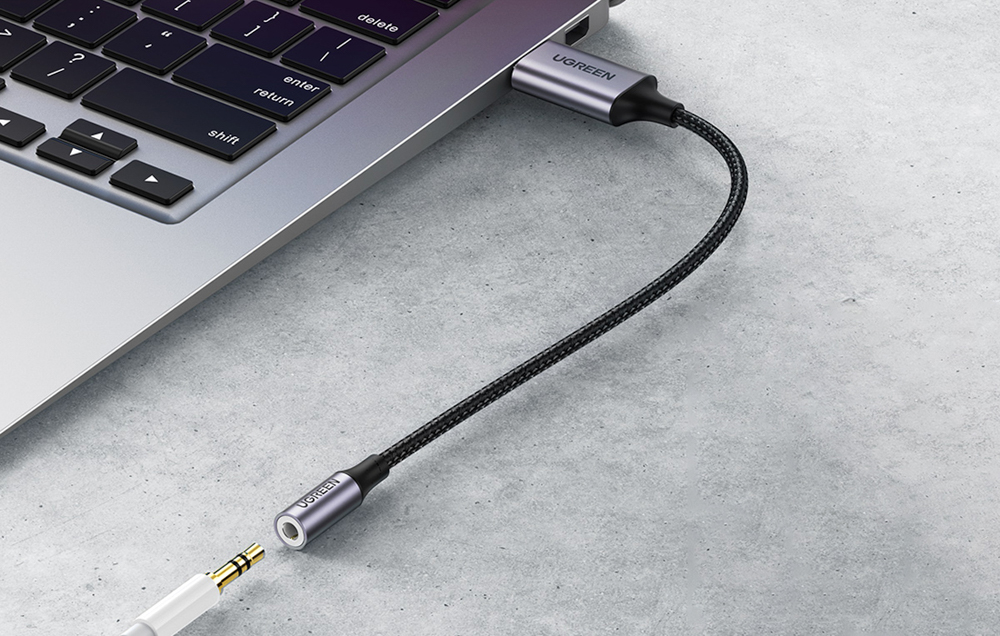 Specyfikacja
| | |
| --- | --- |
| Marka | UGREEN |
| Model | CM477 |
| Interfejs | USB do 3,5 mm |
| Chip | ALC4030 |
| Częstotliwość próbkowa | 24 bit / 96 k |
| stosunek sygnału do szumu | >90dB |
| Pasmo przenoszenia | 20 Hz - 20 KHz |
| Certyfikacja | CE, FCC |
| Pochodzenie | CN |